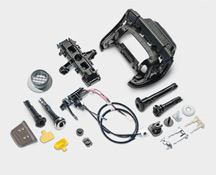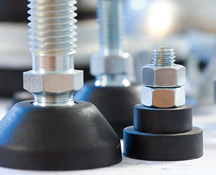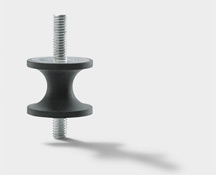 A high degree of engineering expertise, material know-how and flexibility all help us to stand out as specialists in the technical implementation of advanced ideas based on elastomers and thermoplastics. The highlights of the range are our moulded parts and drawing-based structural components, which can also be developed and deployed for one-off production as required.
Moulded rubber components
The demands placed on drawing-based moulded rubber components are as numerous as the uses to which these items are put. These include the use of these rubber products as, for example, cable conduits, buffers, bungs or end-stops. They are employed in the automotive sector as seat and armrest buffers, along with other uses, and also as bellows for Bowden cables. Our product portfolio likewise includes rubberised-metal connecting elements, such as those fitted to machine feet, bearings and sleeves, or to rails and rollers. All our solutions are developed with advanced material expertise to fit smoothly into our technologically optimised overall concepts. Our use of traditional, usually semi-automated, production techniques allows us to manufacture small batches in a cost-effective manner. If larger quantities of moulded components made of rubber and synthetic elastomers such as EPDM, NBR, silicon, CR or FPM/FKM (Viton®) are required, we can deploy our latest, fully automatic manufacturing and finishing equipment.
Moulded plastic components
The technical properties of plastics are such that they are now a thoroughly indispensable part of many areas of industrial production. VIGOT creates moulded components using a wide range of different materials, including PA, TPE, TPU, POM, ABS, PP, PC and PS. Our comprehensive experience makes us your ideal partner whenever special needs arise with regard to material, geometry or precision. We use CAD technology in our in-house toolmaking facility to create the machine tools required for customised solutions. Our range includes, along with other items, fixing clips, retainers, end-caps, handles and plastic components for headrests, along with TPE components designed to substitute moulded rubber parts in all industrial applications. .