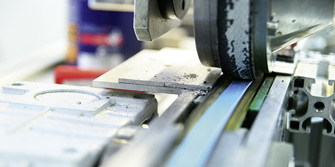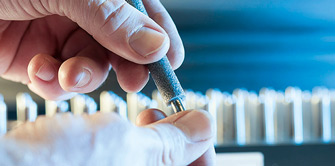 Customised solutions constitute the basis of our success. We manufacture individual profile elements in a wide range of different qualities and materials, including natural rubber, silicon, soft PVC and hard PE foam. We are particularly strong in the area of self-adhesive profiles.

Plastic profiles
Plastic can be processed in an efficient and cost-effective way. Modern types of plastic are particularly suitable when it comes to creating optimised individual solutions for a wide range of customers. This allows us to offer such items as PC profiles of modern design for covering swimming pools, window and building-frontage profiles made of high-quality ABS, transparent or tinted LED covers made of PMMA for sophisticated interior-design purposes, cover strips, angle profiles and round rods. The usage and design possibilities are almost limitless.

Profile sections made of rubber
As experienced manufacturers of rubber profiles, we supply these items in a wide range of qualities and cross-sections. The most widely used material is EPDM, which can be used to make sealing, support, joining or frame profiles, along with edge-protectors. Large production runs of rubber profile sections are required in mechanical engineering and plant construction, the automotive industry, the solar energy sector and elsewhere.

Hard-foam profiles
Hard-foam profiles offer the twin benefits of low thermal conductivity and high dimensional stability when subjected to pressure. Their areas of application include window and building-frontage construction, insulating profiles for motorhomes and edge protection in various shapes and cross-sections for the packaging industry.

Self-adhesive profile sections
We offer advanced know-how in the area of self-adhesive profile sections. These are laminated, after extrusion, with a two-sided adhesive strip. If specially developed production equipment is available, it is possible to fit virtually all common plastic, rubber and foam materials with an adhesive strip designed for permanent attachment, or merely in order to assist installation. This makes the customer's further processing tasks considerably easier.

Special solutions
Specific product solutions are one of our main strengths. We have for example developed vacuum-lip profile sections for use in the glass industry, which have particularly proven their worth in the production of laminated panes. The small-scale deployment of these vacuum-lip profile sections often includes their use in research and development projects. This development is likewise proving its worth in the automotive sector and in the tackling of extraordinary technical challenges. Yet another of our successful innovations consists of a foam tube designed to cover and protect cable-control and actuating systems. This recyclable material furthermore complies with the EU end-of-life vehicle directives.