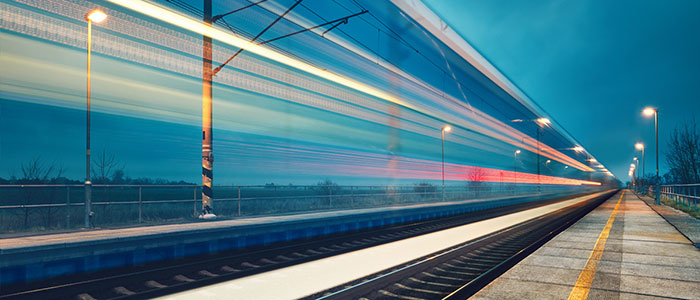 MAXIMALL® Railway Technology
Safety First - MAXIMALL® Hose Systems
VIGOT makes connections. Especially for numerous railway technology applications. The quality of the VIGOT products is supported by the Safety First safety concept. The new MAXIMALL® Hose System product range has been expanded for industry-specific applications with the railway technology segment.
With the MAXIMALL® brand and corresponding railway technology approvals, VIGOT is offering a customer-oriented selection of hoses and pre-assembled hose lines. The entire selection for railway systems was assembled in accordance with the following standards: DIN EN 45545-2, ISO 15440 and DIN EN 50553. The hose systems are suitable for R22/23 HL3.
Our selection includes hoses for a wide variety of applications, from air conditioning to heating and cooling systems to sand brakes, wheel flange lubrication and pantographs as well as suitable fittings, pipe connections and clamps. Our "Railway Technology" overview folder of MAXIMALL® Hose Systems provides you with initial information.

Download Folder (DE / EN)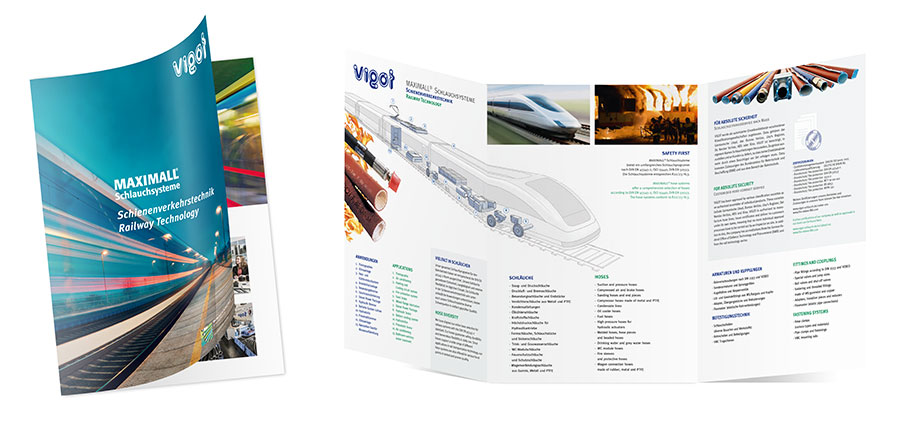 Speciality Hoses for Railway Technology
We have compiled product portfolios for an initial overview of the extensive range of hoses and accessory products in cooperation with our specialist partners:
Railway Hose EC 190

With a very tight bending radius and a broad range of possible uses, the new railway hose EC 190 supports numerous applications. The synthetic rubber hose is suitable for a temperature range from -40 °C to +125°C, is compliant with DIN EN 45545-2 and approved according to SAE 100R4.

Download data sheet EC 190
Download Eaton folder for railway hoses



Roadbed Broom Hose

With an internal diameter of 32 mm and a hardness of 70 +/- 5 shore, the hose made of natural rubber is suitable for the roadbed broom plough. The extruded version is highly abrasion-resistant and has a fabric pattern on the outside. The roadbed broom hose is supplied without an insert.

Download data sheet roadbed broom hose


Roadbed
Hoses and moulded parts for cleaning the roadbed are wear parts and should meet the requirements for the train of machines. In addition to the Roadbed Broom Hose, we offer the rubber star for the roadbed as a moulded part and rubber-encased steel hoses in the following dimensions: outer diameter 30 mm, length 300 mm. Please see the enclosed datasheet for the technical data.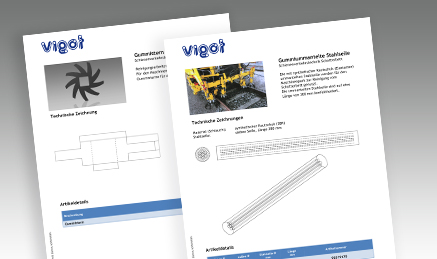 Download data sheet, rubber star (DE)


Download data sheet, rubber-encased steel hoses (DE)
FlexMaster
The elastic pipe connection, which compensates for alignment differences up to max. +/- 2°, is made of steel with a galvanised surface. This elastic pipe connection is suitable for an operating pressure of 15 bar in a temperature range of -40 °C to +40 °C, for certain liquids also in higher ranges – see datasheet. The FlexMaster pipe connection is supplied in numerous lengths and diameters, as an elbow or straight pipe. Please submit your enquiry with technical data.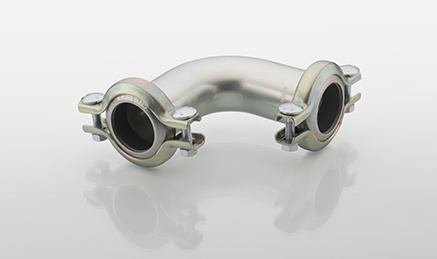 Download data sheet Flexmaster (DE / EN)


Download folder Flexmaster (DE / EN / FR / ES / IT)
Continental Railway Hoses
The combination of railway hoses from our partner Conti, consistently designed to meet the high requirements of railway engineering, with fittings and accessories ensures the unproblematic use of hose lines for your company. Assembled by us in-house, inspected and certified, you receive railway hose lines that meet the DIN and EN requirements for railway engineering.

Download data sheet Contitech (DE)

EATON Couplings
We have been successfully partnering with EATON for more than 50 years. Since 2018, we are also an authorised specialist dealer, distributor and assembler for railway technology and railway engineering. VIGOT meets all requirements for safe hose lines with products from Aeroquip, Gromelle, Hansen, Industrial Hose, Synflex, Walterscheid and Winner – Safety First.

Download Eaton main catalogue


Download data sheet Eaton quick connect couplings
Hidden Champion: Fire Sleeve F88
Safety First – Fire Safety
The VIGOT Fire Sleeve type F88 has been the undisputed hidden champion among the VIGOT industrial engineering products for almost 50 years. This high-quality, in-house development remains convincing with outstanding fire protection properties.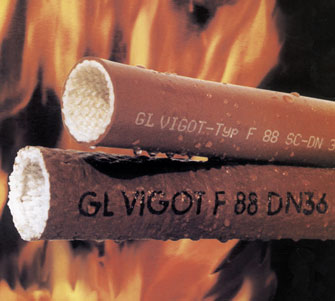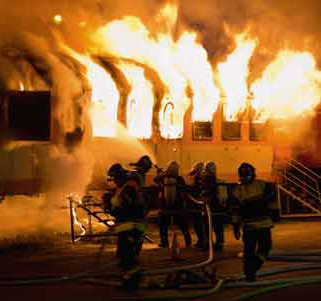 MAXIMALL® Hose Systems offer a comprehensive selection of hoses according to DIN E N 45545-2, ISO 15440, DIN EN 50553. The Hose Systems conform to R22/23 HL3.
VIGOT offers the fire sleeves in the F88 SC version as extruded, silicone-coated hoses. This type is also available as F88 SC Flex, a hose with a flexible fabric construction – elastic – for long casings and as an open casing with various closure strips for subsequent installation. The coatings of the F88 SC fire protection sleeve are oil and solvent-resistant. They stand up to high mechanical stresses and exhibit good abrasion resistance. The fire sleeve has been fire protection tested and certified, among other things by Germanischer Llyod, and meets the provisions and requirements for railway engineering.
Further information about the fire sleeve is found on the separate VIGOT fire sleeve website:

Product Selection in the Electronic Catalogue
Hose Product Range – quickly accessible
A selection of hoses from our standard product range is available in our electronic catalogue. Roll length enquiries are uncomplicated, with no commitment. Drawings and files can be uploaded for special requests. Datasheets for the respective hose can be printed from the electronic catalogue. Naturally we also supply other hoses and diameters on request. Allow us to advise you in detail. We will be happy to call you back!