The company VIGOT Industrietechnik GmbH is a leading German manufacturer and supplier of ready-to-install hose conduits. The company, which operates worldwide, offers products and services in the hydraulic systems, industrial supply and reel-technology sectors.
Find out more about us via our press releases (available as PDF downloads).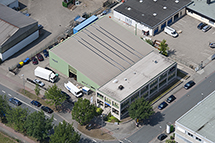 Company profile


Press information: Company profile (EN)

---

VIGOT meets Braunwarth
"No hose without a rolling system. Now what belongs together anyway is growing together," emphasises Lars Blatt, Managing Partner at VIGOT. "As a hose specialist we have already worked together with Braunwarth in the past."



Press information: Cooperation VIGOT Braunwarth (EN)


Press photos: Cooperation VIGOT Braunwarth
---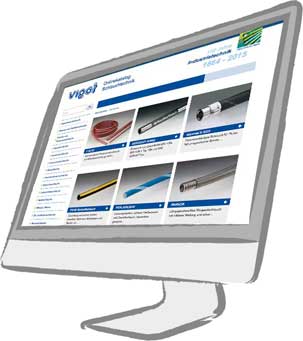 VIGOT presents the online catalogue
The new e-catalogue provides industrial customers with convenient access to VIGOT's complete hose range. Using simple menu navigation, articles can be requested online and corresponding data sheets printed out.



Press information: VIGOT e-catalogue (EN)


Press photos: VIGOT e-catalogue
---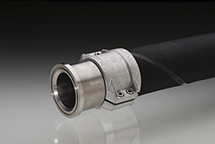 Maximall S 2000


Press information: Maximall S 2000 (DE)
---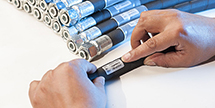 Supplier


Press information: Supplier (DE)
---
150 years – ... since 1864


Press information: 150 years (EN)
---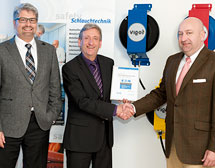 VIGOT is a distribution partner
VIGOT, Eaton, partner, industrial technology
VIGOT has been certified as a distribution partner of EATON under the terms of its Channel Partner Program. As a partner of Aeroquip, Hansen & Gromelle, Walterscheid and Winner, VIGOT is set to offer even more expertise in the area of industrial technology: Customer-specific solutions and local service are combined with top-quality products that are recognised worldwide.

A strong partnership that exceeds all expectations.



PDF EATON distribution partner certificate (DE)