The term "valve fittings" covers not only our reusable or crimp-fitted hose adapters, but also a whole range of coupling systems, clamps, strips, shutoff devices and tube bends.
They are available in brass, normal or stainless steel, or wrought copper alloys. Our state-of-the-art surface treatments conform to the latest technical standards, including the European RoHS Directive (2002/95/EC), and have been supplied with exclusively chrome (VI)-free passivation since 2007.
• Valve fittings
• Hose couplings
• Quick-action couplings
• Dry couplings
• Accessories
A secure connection at all times
Our business is concerned equally with the supply of original equipment and the delivery of drawing-based hose-conduit systems and spare parts. Our workshop makes and assembles pipe conduits for virtually all areas of application, from DN 2 right up to DN 300, along with their corresponding valve fittings.

FVarious attachment techniques are used with these valve fittings, depending on the type of hose conduit and its corresponding requirements. They can take the form of push-in adapters, quick-action couplings, reusable screw-in fittings, crimp connectors or valve fittings welded onto metal hoses.

Quality-control consists, depending on requirements, of leak and pressure testing carried out at up to 4,000 bar, followed by the corresponding, fully documented certification procedures.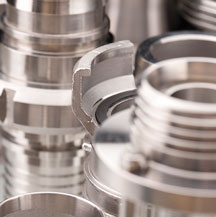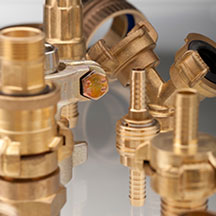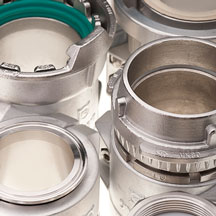 Please refer to our catalogue entitled "Hose technology– Safety first" for further details of this group of products. Just click on the button to go straight to the corresponding page.