Welcome to the future!
VIGOT presents the Online catalogue
The company VIGOT, one of the leading German manufacturers and suppliers of a wide variety of ready-to-install hose conduits, is represented on the Internet with an e-catalogue. Customers can access it directly via our website and get an accurate impression of our extensive, selected range. All the products are presented with photos, which feature a detailed view, and plenty of information about properties such as material, length, diameter and compressive strength. Those interested can, with just a few clicks of the mouse, also print out a data sheet or upload a drawing for themselves, meaning that we are able to prepare a specific quotation. For the sake of simplicity, our request module should be used for this.

---

Together for success - SCHAUENBURG Industrietechnik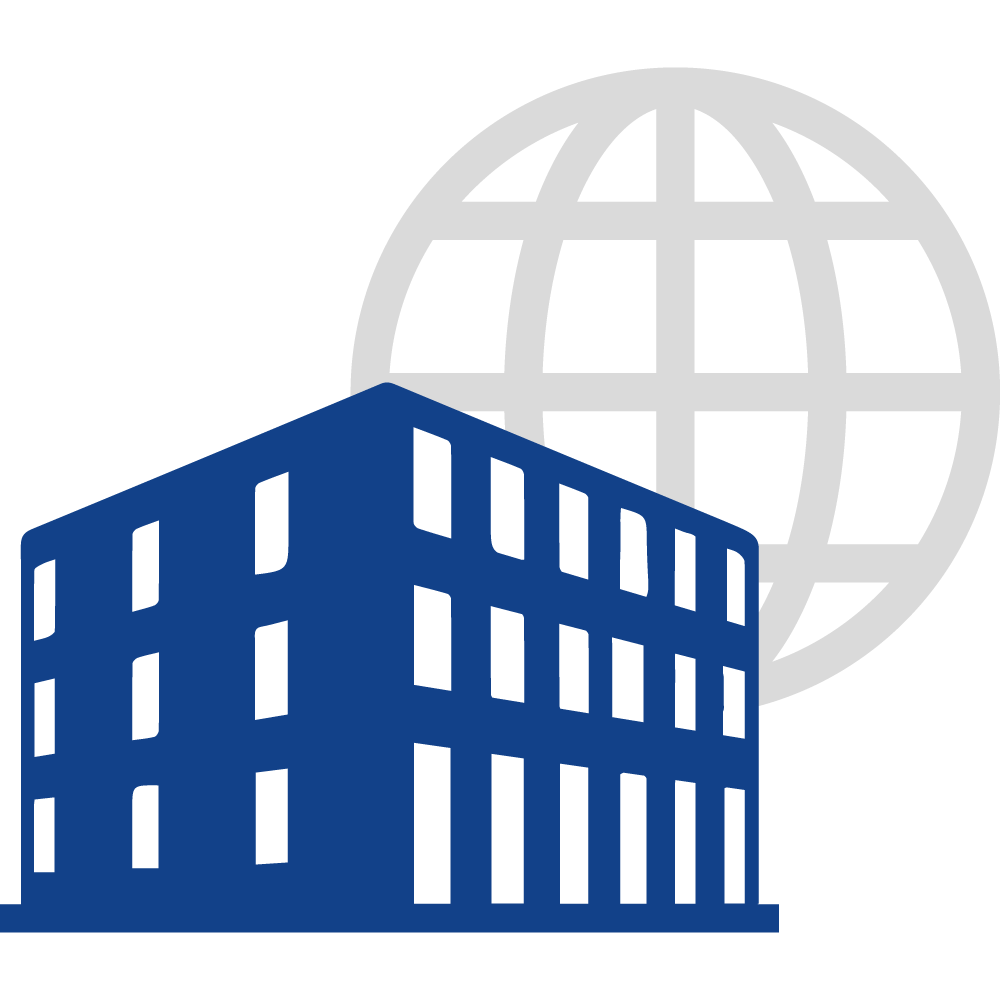 SCHAUENBURG Industrietechnik GmbH unites competence, experience and innovation under one roof. VIGOT Schlauchtechnik became part of the SCHAUENBURG Industrietechnik Group in June 2020. By merging the companies, we create synergies to find the best possible solutions for the demands and wishes of our customers. With established brands and precise solutions for increasingly complex tasks, we reliably stand by our customers and partners on the national and international market.



The SCHAUENBURG Group is a dynamic and reliable company that meets the challenges of globalization, digitalization and sustainability with confidence and determination. Inform yourself and let us be successful together! Click here for company website

---

New from our series MAXIMALL® Metallurgy:
The fire sleeve F88 Basalt eco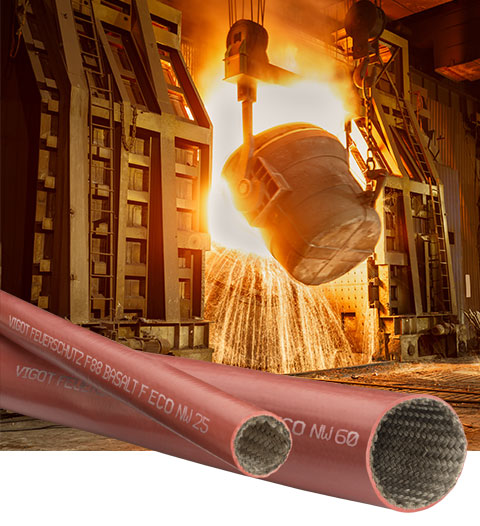 VIGOT adds an important innovation to the MAXIMALL® hose systems. This innovation, the new F88 Basalt eco fire sleeve, is made of a natural material and was developed especially for continuous temperature applications at workplaces exposed to extremely high heat, such as blast furnaces. The fire resistance and melting point are consistently very high. Here the VIGOT "safety first" principle means concrete added protection for employees at such workplaces.
Please click here, for all informations about MAXIMALL® Metallurgy fire protection products.
---

MAXIMALL® Metallurgy Industry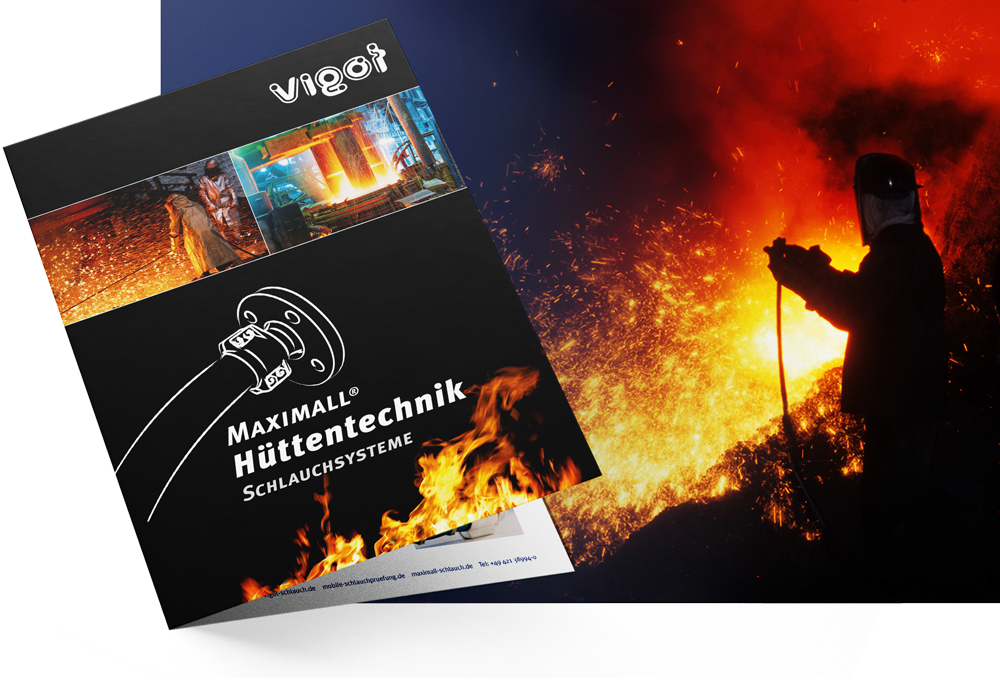 Extreme temperatures, high dust exposure, maximum demands on the safety of man and material: The extraction and processing of metals demands the highest level of performance from the technology used. This applies to the hose systems used, which have to fulfil a multitude of tasks in metallurgy - from the supply of cooling water to dedusting and material transport.
VIGOT is one of the leading manufacturers of ready-to-install hose assemblies in Germany and belongs to the SCHAUENBURG INTERNATIONAL Group.
Please click here to get all information about our MAXIMALL® hose systems and to download the current folder.


---
MAXIMALL® Railway Technology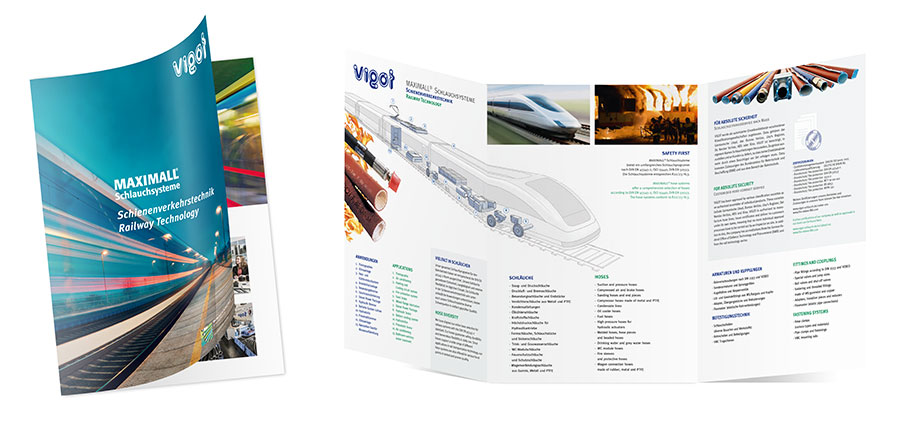 Our entire hose selection for railway technology, based on the DIN EN 45545-2 standard, offers a rich variety for a wide range of applications. Safety, durability and flexibility are our top priorities, verified by numerous tests.
You can find all information about our MAXIMALL® Railway Technology Hose Systems as well as our new folder HERE.
---
Close Cooperation between VIGOT and Braunwarth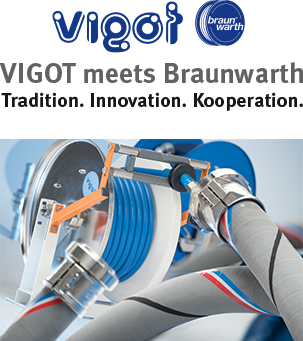 At the start of 2016 VIGOT and Braunwarth joined forces. VIGOT is a leading specialist in hose technology. Braunwarth supplies the matching rolling systems. Industrial customers benefit from complete solutions from one source.
Braunwarth knows what VIGOT can do – and vice versa: it does not matter whether customers now approach one company or the other: they always benefit from comprehensive advisory expertise in all matters of hose technology and rolling systems. Hose conduit and rolling system are no longer regarded separately but as a functioning unit. It is ensured that hose and rolling system are optimally harmonised. Over and above that, having a contact person for both areas saves time and money. VIGOT is based in Bremen and Mainz, Braunwarth in Überlingen on Lake Constance. Together the two traditional companies cover the whole German market as well as Austria, Switzerland and the Benelux countries.
For more information about the cooperation visit www.braunwarth-vigot.de
---