Steam and hot water for cleaning and sterilisation
Steam is used as an energy transmission medium and for sterilisation and cleaning in a wide variety of industrial applications, for example in the food industry where the highest hygiene standards have to be met. Using saturated steam is especially popular. It has a high thermal transfer coefficient and permits precise temperature adjustment by controlling the pressure. Tough dirt can be removed even from narrow gaps and bacteria are neutralised. Safely transporting steam from the generator to the place of use, even over longer distances, is essential so your company can benefit from these useful characteristics. Materials that stand up to high pressure and heat are needed here: you will find them in steam and hot water hoses of high quality. Such hoses also permit the precise application of steam, for example when cleaning surfaces. They are suitable to heat tank cars or for the controlled heating and moistening of products as well.
Our hose selection includes electrically conductive, oil-resistant hoses. They are suitable for the transportation of steam and hot water in the following fields of application among others:
• Chemical and petrochemical industry
• Food industry
• Cosmetics industry
• Building trade
• Refineries
• Shipping
• Horticulture operations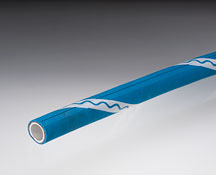 PERLAPAL®-W:

NBR cover and CIIR inner tube, resistant to hot water up to 95°C and steam up to 164°C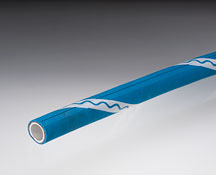 Dairy steam hose:

synthetic rubber cover and EPDM inner tube, resistant to hot water up to 95°C and steam up to 164°C
For maximum transport safety: steam and hot water hoses
Steam hoses have to meet the highest safety standards because steam has tremendous force: one litre of water corresponds to 1,700 litres of steam. That is why hoses for transporting this medium are produced according to the highest quality standards. EPDM is commonly used for the cover and inner tube. It is highly resistant to chemicals and heat, with good elasticity and electrical insulation strength. Since steam hoses are commonly used in the food industry, they also have to be resistant to animal and plant fats.
The EN ISO 6134 standard was developed to guarantee consistent safety standards across Germany for hoses to transport saturated steam. VIGOT Industrietechnik GmbH offers steam hoses produced according to this standard: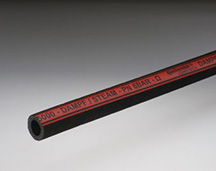 Dampf TRIX® 5000:

saturated steam up to 6 bar and hot water up to 120°C, lining made of temperature and hydrolysis-resistant aramid, resistant to UV radiation, weathering and ozone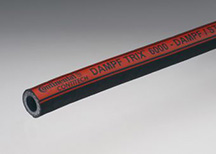 Dampf TRIX® 6000:

saturated steam up to 18 bar, optimised against popcorning, lining made of double steel mesh, resistant to UV radiation, weathering and ozone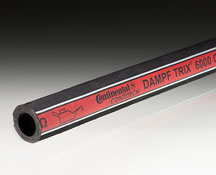 Dampf-TRIX® 6000 Oil:

saturated steam up to 18 bar, exterior resistant to oil, optimised against popcorning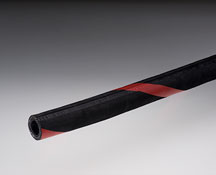 PYROPAL® 230:

saturated steam up to 18 bar, lining made of two layers of asymmetrically woven, corrosion protected steel mesh
All hoses are supplied fully assembled with the appropriate fittings. Naturally all hoses are DIN EN 10204 certified.
Please refer to our catalogue entitled "Hose technology– Safety first" for further details of this group of products. Just click on the button to go straight to the corresponding page.